I'm currently sleep training (if you follow me on Facebook, you'll know I started this process last week).
We're not quite there yet, but I am definitely seeing improvements – the last three nights Jack has slept on his own, in his cot, from bedtime (7ish) until 5am.
As I've previously told my son, 5am is not an acceptable time to start your day, but we're working on it. (And on two of those nights it was me who woke him up by running into his room to check he was alive. So I guess I need a little work, too.)
The programme we're following is a version of gradual retreat, (will post on this when & if we get to a stage where I feel that we're finished) and I'm watching daily coaching videos by an American lady called Dana. (This decision was partly motivated by the fact that I have an American friend called Dana who I love very dearly, but I digress…) Anywho, one thing she said in a video really made me laugh.
'If you child is strong-willed, or spirited, this may take a little longer'.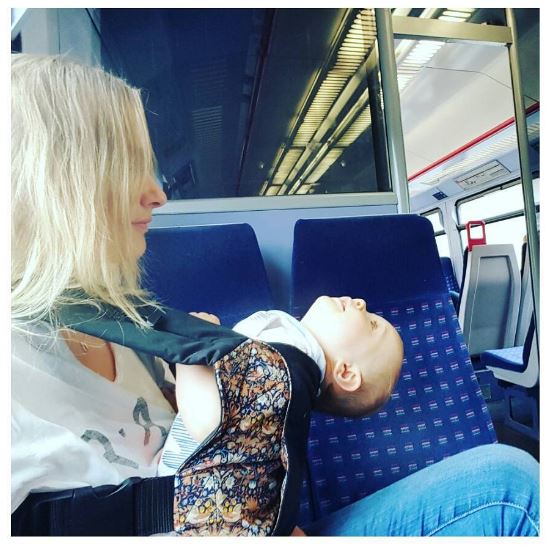 Pretty sure that's not how the carrier works, Jackamo.
Spirited. There's a word for 'difficult' I hadn't thought of before.
This is what I love about Americans; some people find their sunny-side-up have-a-nice-day-now positivity a little sickening, and usually, as Mrs Misery the Sarcastic Cynic, I tend to agree.
When it comes to talking about my boy, though, we'll stick to the nicey-niceties. He's not difficult. He's 'spirited'. OK?
When he crawls over to you and bites you on the foot. He's spirited.
When he throws his wooden blocks at your head one after the other. He's spirited.
When he sprays a full mouthful of water (complete with toast crumbs) all over your face during breakfast. He's spirited.
When he pulls the standing lamp down onto your head. He's spirited.
When he takes twice as long as the average child to sleep train. HE'S SPIRITED. OK?!
Oh yes. Spirits in the Crossley house are high.