I am not a baker. At least, I wasn't until I turned into a lockdown cliché and started baking scones, banana bread and brownies like the rest of the nation. And I had every intention of making a regular, run of the mill coffee and walnut cake right until the end, when I discovered an empty box of icing sugar and had to improvise. And thus, the sticky toffee coffee and walnut cake recipe was born. It is best eaten warm, with ice cream, like a sticky toffee pudding. It freezes well. It is, I promise, the best cake/pudding I have ever made.
Just before we get started, I should tell you that I take a very casual approach to baking. (Much like my approach to parenting, at times.) I vaguely measure things. I prefer cups to scales. I make substitutions at will (hence the birth of this cake-pudding). I encourage you to do the same, as it takes the stress out of baking and makes the whole thing rather more enjoyable. Everything I've ever baked has come out at least average and always edible (apart from one sponge that was still raw in the middle no matter how many times I put it back in the oven, but I just cut out that bit and said it was a doughnut cake). So, on that note, let us get to the recipe…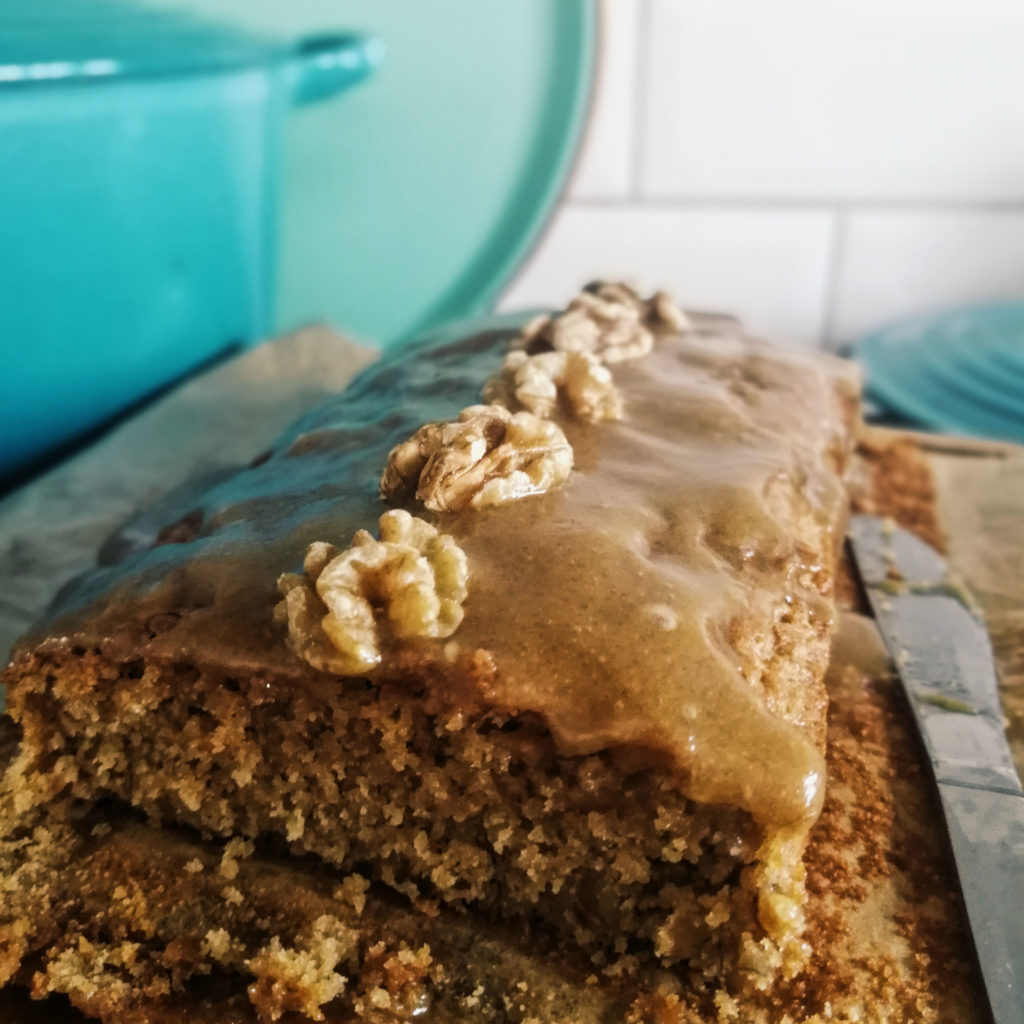 Sticky Toffee Coffee & Walnut Cake Recipe
Ingredients:
For the cake:
125g or 1 cup unsalted butter
125g or 1 cup caster sugar
50ml of coffee (I used decaf espresso)
2 eggs
125g or 1 cup self-raising flour
1tsp baking powder
1 cup walnuts, chopped
For sticky toffee coffee topping:
3 tbsp strong coffee
2 tbsp butter
3 tbsp brown sugar
Walnuts to decorate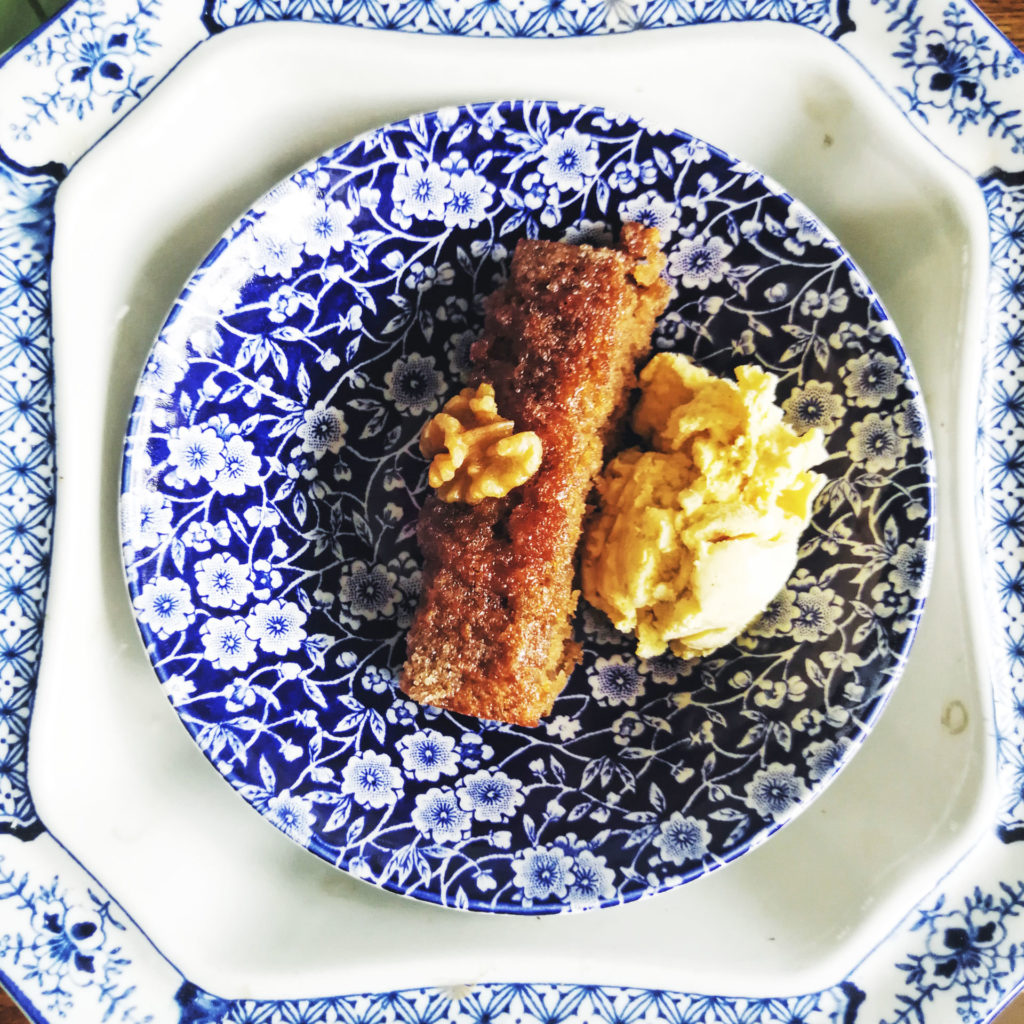 Method:
Preheat oven to 180C and line a loaf tin with greased baking paper
Place butter and sugar into a bowl and cream. By hand is fine if you don't have a stand mixer. I don't.
Add eggs one at a time with a little flour so they don't curdle.
Add the coffee and mix well.
Add the flour and chopped nuts and fold in trying to keep as much air in the mixture as possible. If you're not good at this, just throw in a little baking powder. I do the latter.
Pour your mixture into your loaf tin (it will look a little sloppy but I promise it's just dandy) and bake for 30 minutes or until it looks golden brown. A cake skewer (I don't have one but have a lovely cocktail skewer for serving olives in martinis that does the trick) should come out of the centre cleanly.
Leave to cool and now make the sticky toffee coffee topping.
In a pan, melt the butter, sugar and coffee together. If it is too sloppy, add a little more sugar until it is a thick syrup. Don't worry about the quantities too much, it is butter, sugar and coffee, it is going to taste delicious.
Leave to cool for a minute or so and then drizzle along the centre of your cake and allow it to settle across the top of the loaf.
Set walnuts down the centre of the cake, slice off the end and eat immediately with ice cream.
Stick half in the freezer and give a couple of slices to your favourite neighbour. When you've defrosted it, just stick it in the microwave for 30 seconds before eating with a cup of coffee around brunch time or whenever you need a break from your child (tell them it's grown-up flavour cake).
Enjoy!
Read my latest post: Single Parents Need Support, Not Shame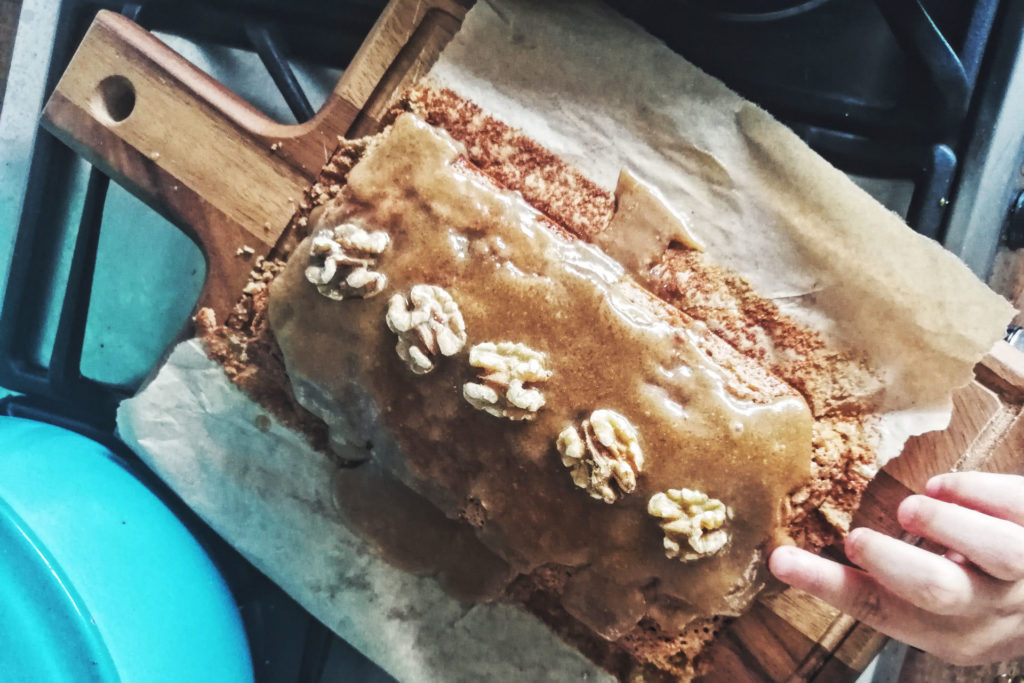 More Recipes: Spicy Apricot Chicken & Baby Apricot Swirl | Butter Bean Brownies