We all know the main causes and solutions for babies crying. But after intensive research I've been able to add to the list. Follow these guidelines and your baby will never cry again*. 
*Probably

You're welcome.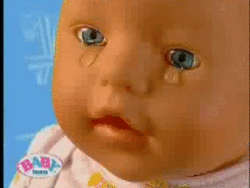 ISSUE ONE: 
Hungry

SOLUTION:
Duh. 

ISSUE TWO: 
Wet/dirty nappy

SOLUTION:
Again, duh.

ISSUE THREE:
Tired

SOLUTION:
Encourage them to sleep. This can be hard. Babies are notoriously bad at sleeping when advised/forced to. I can recommend a hairdryer or white noise app played at full blast to confuse them into a deep and peaceful (not for you) sleep. 

ISSUE FOUR:
Some sort of pain/disomfort

SOLUTION:
Try and identify said pain/discomfort and ease. Do they have a temperature? (Delicious Calpol & possibly a dr visit if yes). Windy? A bit of tummy time and some baby massage. 

ISSUE FIVE: 
Too hot/ too cold

SOLUTION: 
Give or take away a blanket. (All this is revolutionary, I know.)

ISSUE SIX:
Feels like crying

SOLUTION: 
Explain rationally that crying for no reason is not socially acceptable. At any age. 

ISSUE SEVEN:
Your baby doesn't like you

SOLUTION: 
Buy it a present. Always works with me. 

ISSUE EIGHT: 
Your baby is expanding their lungs for their future career as an opera singer/ synchronised swimmer

SOLUTION: 
Explain that footballers/ tennis players earn more money and neither require long periods underwater or any noise at all.  

ISSUE NINE:
Your baby doesn't like their outfit

SOLUTION: 
Have a word with yourself and get them changed, pronto. Today SO doesn't feel like a dungaree day, mum. 

ISSUE TEN: 
Start again

SOLUTION: 
By this point if your baby is still crying it's likely issues one-through-nine may have arisen. Best double check to be sure. 

Et voila! A contented little baby. Gina Ford eat your heart out.