When you're a working mum, dressing isn't always easy.
By this I mean, actually getting dressed is a challenge; you've got a toddler with separation anxiety hanging off your leg screaming 'pppiiiiiigggg' (because he wants to watch Peppa Pig, not because you've had chocolate digestives for the last eight meals, hopefully), and you haven't done washing in God knows how long. I always assumed I wouldn't want 'nice' clothes anymore, since everything would be covered in snot, but even though a shoulder of snot is a certainty, I still want to wear clothes I love every day.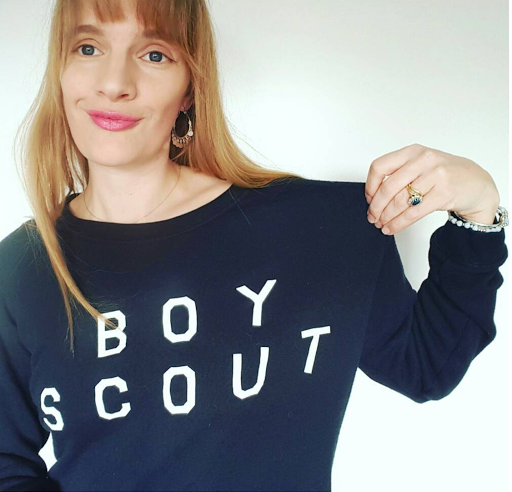 One of my beloved Zoe Karssen sweatshirts – a working from home staple
Here, I share my daily #ootd posts from Instagram with some of my favourite outfits & why I love them. From the casual brands I'm obsessed with (hello ZOE KARSSEN) to the fast fashion high street buys I've impulse purchased online while stuck at home with a poorly boy.
Now that it's officially spring, it's time to pull out some statement tops, embroidered blouses and pretty prints. This Next number is absolutely everywhere, so don't expect to be the only one in the office wearing yours (I have it in both colours, here's the red version). But despite being THE buy of the season, it's pretty enough to make it worth the investment. I can see myself hanging onto this one for many years to come.
If you work from home a lot, you'll know that it's hard to find the motivation to wear something pretty, and yet getting motivated to work wearing lounging clothes or even PJs (hey, it happens) just seems difficult. Which is why I live in comfy denim (at home and in the office, thank you laid-back mag publishing industry), statement tees and pretty silk blouses. This soft Raquel Allegra tie-dye silk tank was a gift at her tie-dye masterclass and I could honestly wear it every day. As comfy as PJs but cute enough to dress up for a meeting. (Even if only with the postman/corner shop owner.)
https://www.instagram.com/p/BSjBQsagQcy/?taken-by=themotheredit
If you're dying to get into your favourite summer tops, but the sun isn't quite warm enough yet, try layering with a plain white tee. I love this M&S B&W gingham peplum top from last summer, and it looks great over a casual t-shirt.
When it's really warm outside, there's nothing I love more than silk. These silk trousers have been a wardrobe staple since I bought them about 5 years ago – I have them in red, too. This Zoe Karssen t-shirt is an oldie too, and starting to get a little ragged. But I can't let it go… I should note to that while I adore these silk trousers, they're not the most practical mum attire. They don't withstand peanut butter fingers all too well…
As I mentioned earlier, I live in jeans. But if I want to look a little more dressy, eg. for meetings in town etc, I'll add a pretty blouse, trophy jacket or embellished kimono. This beaded shrug is only from Forever 21 (about three years ago) but I've worn it to many-a-wedding, party and boardroom meeting over the years. It was a staple pick-me-up during pregnancy, too.
Will wipe the slate clean next week with another week of outfits.
Follow me on Instagram for daily updates.
READ MORE: Butter Bean Brownie Recipe / 29 Ways to Say 'No' to a Toddler / Maternity Pay – The Shocking Truth / What I'm Wearing: Working Mum Style / It. Never. Stops / 15 Truths About Life With A 1-Year-Old