Once you learn how to make a basic curry base, you can throw away the recipe book. Which might not be the best way to start an, ahem, recipe post, but maybe you haven't learnt how to make a decent paste yet. I love creamy, coconut-y curries, and while I mostly make veggie curries, occasionally I treat myself to prawns. This is, without doubt, the most delicious curry I have ever made, and I have made a LOT – which is why I thought I'd share this recipe. My favourite thing in the world (apart from my son) is peanut butter; and this prawn and coconut curry recipe contains not one nut butter but two; they are optional but definitely elevate this meal to restaurant levels of indulgence.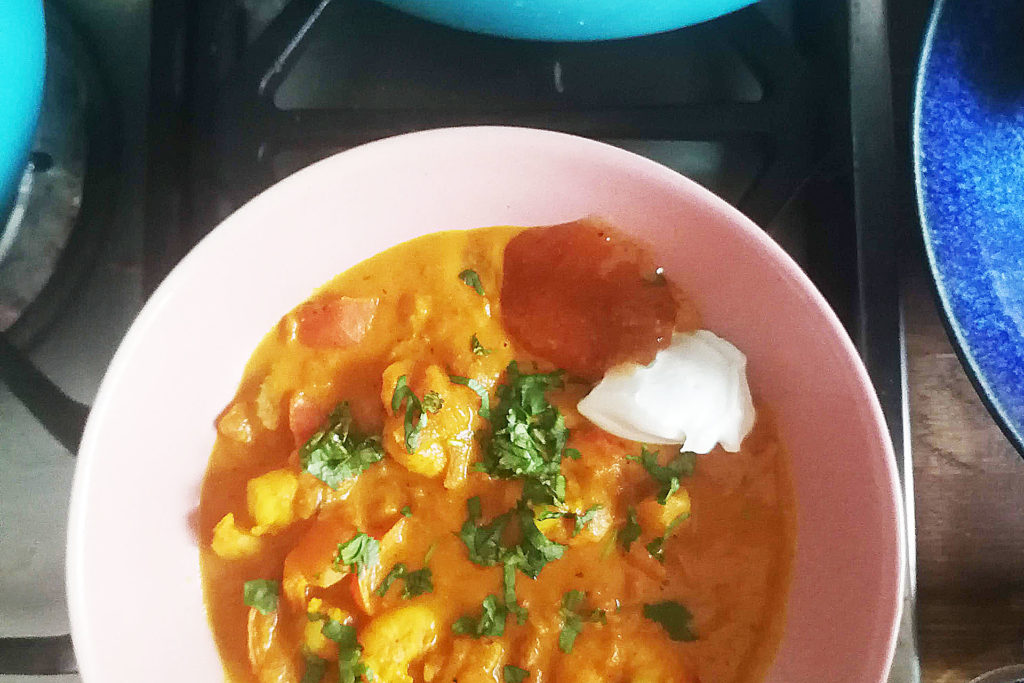 You can eat it with rice (I have a Joseph & Joseph microwave rice cooker which is like a half-way-house between microwave rice and cooking rice properly and one of my favourite purchases ever) or naan bread or poppadom. My choice are these frozen chapatis I found that you can just fry up in 5 minutes and are perfect for tearing up and dunking in the sauce. I also like to serve it with a dollop of Coconut Collaborative yoghurt which is expensive but cheaper than a takeaway, so…
Prawn & Coconut Curry Recipe
Ingredients:
3 X cloves garlic
Chopped ginger
1 X onion
1tsp turmeric
1tsp cumin
1 X red chilli
2 Sticks celery, chopped
Small handful cherry tomatoes, chopped
1 X tin tomatoes
1 X Small tin light coconut milk
1tbsp coconut & almond butter
1tbsp peanut butter
225g king prawns
To Serve:
Coconut yoghurt
Handful chopped coriander
Mango Chutney
Assorted curry accompaniments like naan/poppadom/rice
Method:
Melt teaspoon of coconut oil in a pan over a low heat. Throw in one chopped onion and some garlic and ginger. I use the frozen cubed ginger and garlic cubes because I'm lazy and they're amazing. Cover and let it all go soft. Add spices of your choice. I use turmeric & cumin or cumin seeds plus some dried coriander. Throw in one chopped red chilli (deseed if you want it to be mild). Stir for 2-3 minutes.
Add tomatoes and celery and stir until covered in spices, then add the chopped tomatoes and a spoonful each of nut butter (I use Pip & Nut coconut & almond butter) and peanut butter (Pip & Nut again). Simmer for 10 minutes.
Add coconut milk and simmer for further 5 minutes.
Add prawns, stir in and cook for 4-5 minutes until prawns are cooked through.
Serve with a spoonful of coconut yoghurt and some fresh coriander. Have rice, don't have rice, have naans, poppadom, toast or crackers. Just have something to dunk into it.
More Recipes: Butter Bean Brownies | Sticky Toffee Coffee & Walnut Cake